We are happy to announce the release of a new app that integrates Odoo with IAPR (ΑΑDΕ) mydata ebooks.
Electronic Books is a very important step in the digital transformation of the Tax Administration in Greece and its relationship with businesses. The goal is primarily to serve businesses by providing an innovative digital platform for fulfilling their tax obligations, which will lead to the automation of tax declaration and will relieve them of their current obligations, such as Filing of Customers-Suppliers Lists.
Along with reducing the administrative costs of businesses, IAPR  (ΑΑDΕ e-books enhance the transparency of transactions by providing a digital business collaboration environment for the pricing of goods and services. They also establish the credibility of the tax administration's relationship with businesses and act as a mechanism for voluntary compliance and prevention of tax evasion and smuggling, as well as facilitating consistent business in the refund of taxes.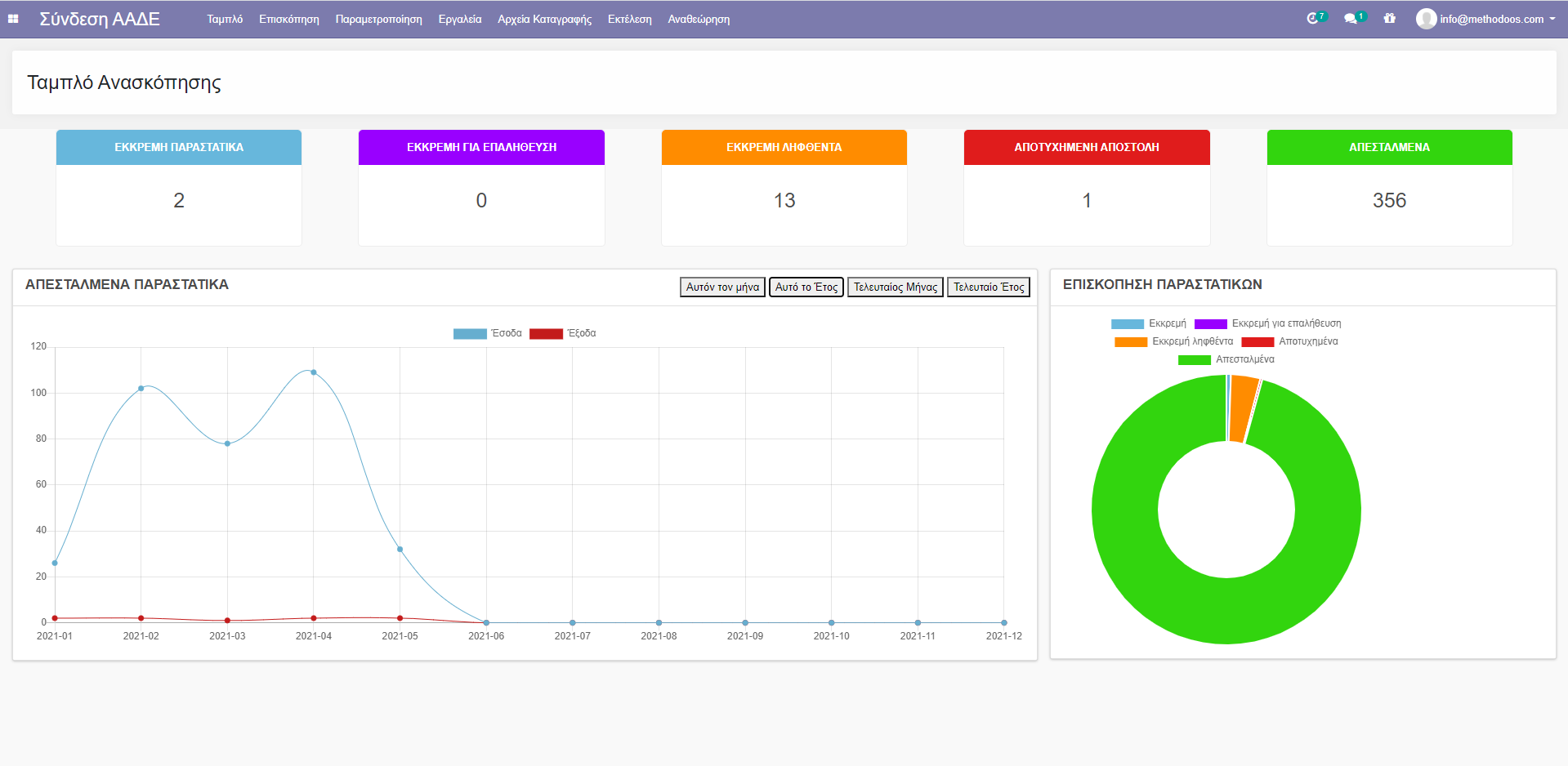 Methodoos & IAPR (ΑΑDΕ) mydata

Considering the importance of the provided functionality for every type of business, Methodoos fully integrated  Odoo ERP with IAPR mydata.
We also provide 24hr Support and update our application, in order to always meet the regulations provided by the Greek Tax Authorities and the Greek Laws.

Integration Features

Functionality
Domestic Sales Documents Upload
All Domestic Sales Documents, regardless the type are uploaded to IARP (ΑΑDΕ), along with the corresponding Return Documents

Management

Easy Configuration Process

All Classification Types, Income Classes, Documents / Taxes Setup is set in one place, for an easy configuration process

Domestic Purchase Documents Download/Control

Accurate download of all suppliers documents, in order to match Odoo registered Bills and send approval for the posted purchase transactions.

Upload Scheduler
The Connector supports all different ways of uploading documents to IARP (ΑΑDΕ).  Possible options are: Automatic upload when a document is issued - On request upload - Scheduled upload on any date/time.

Foreign Sales & Purchase Documents Upload
If you are issuing to or purchasing from abroad (EU or not), our app can easily upload all invoices, respecting all necessary rules.

Interactive Information

Easily get a full analysis of the uploads you have performed by viewing IARP UID and IARP Mark per transaction.  If the unlikely situation of upload failures, you can easily locate the issue in our detailed log files.